WNMU hosts a retrospective of Cecil Howard's 68-year art career at McCray Callery 090723
Photos and article by Mary Alice Murphy
[Editor's Note: A slideshow of his work on exhibit is below the Read More.]
Cecil Howard, who served as an art professor at Western New Mexico University, told the Beat that when he was in high school, no art courses were offered. "But one of my teachers liked art and knew I was interested in it. She helped me get a piece of stone from a quarry. Her husband was a gravestone carver, and he loaned some of his tools to me." One of the photos shows the first carving he made.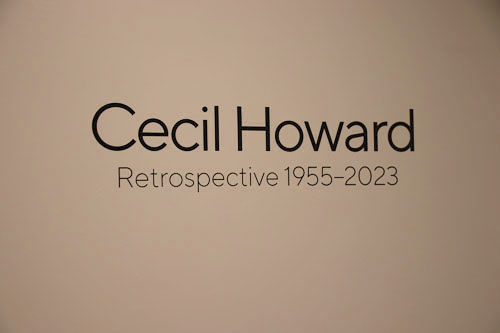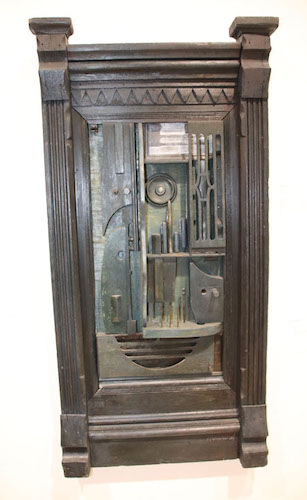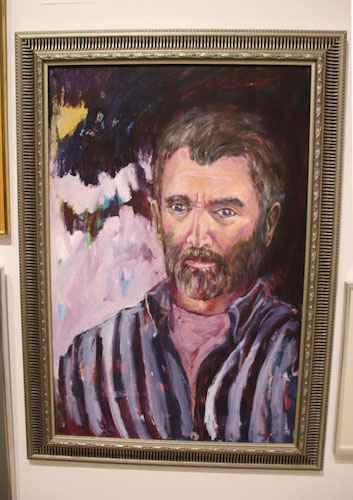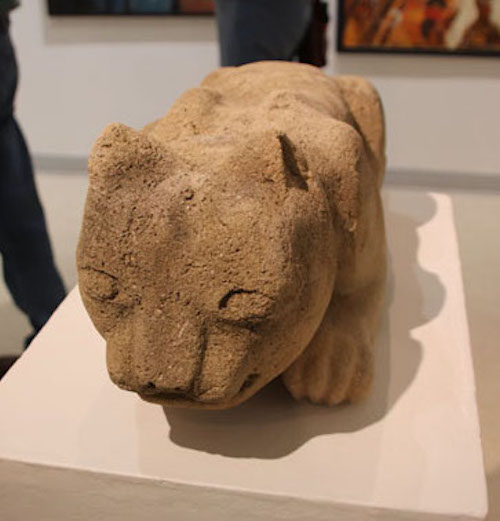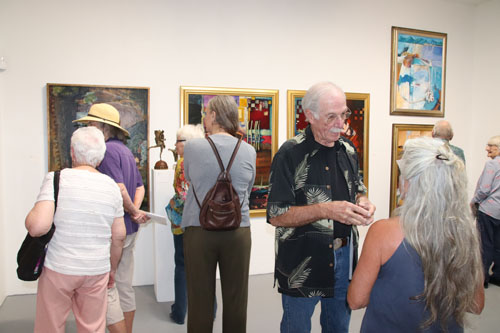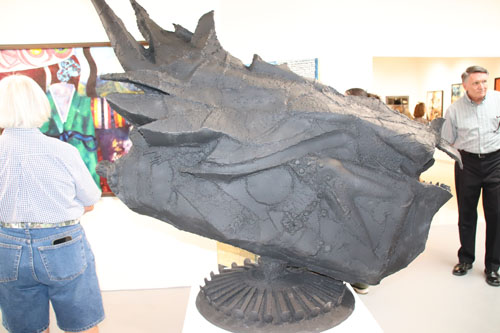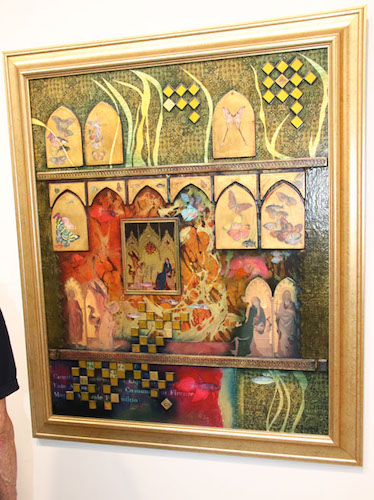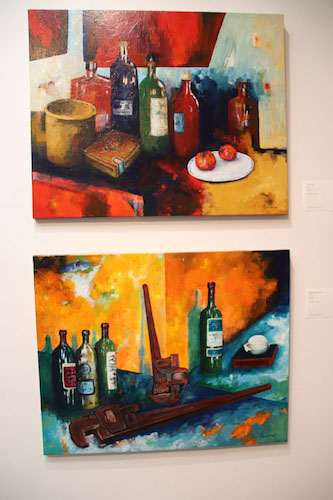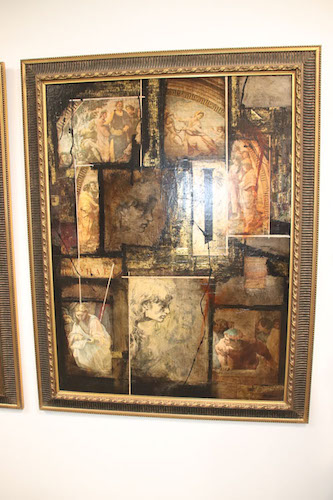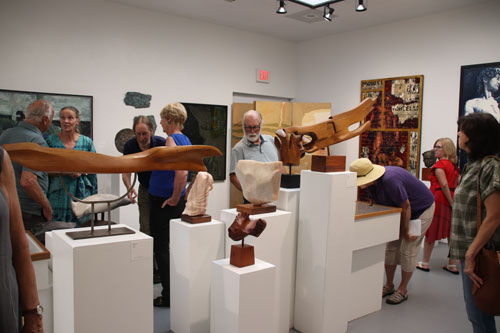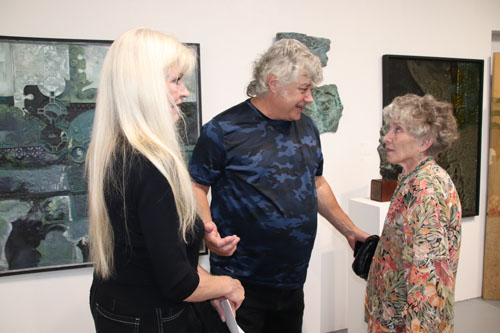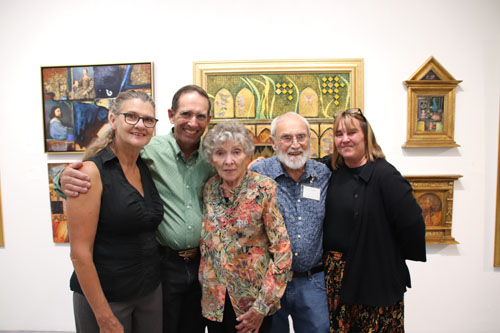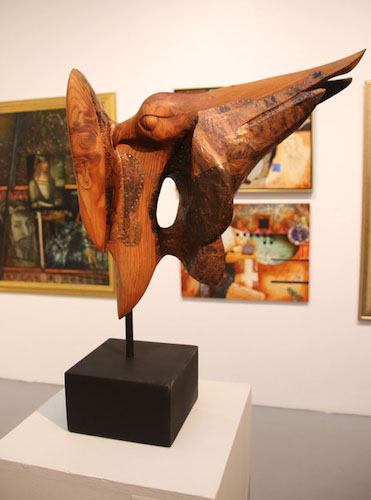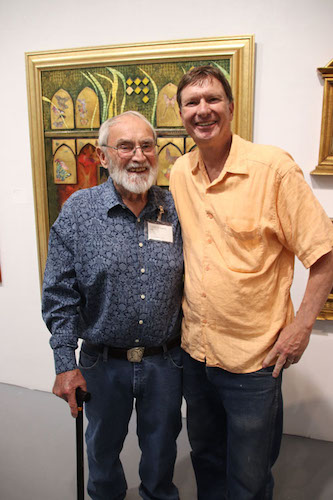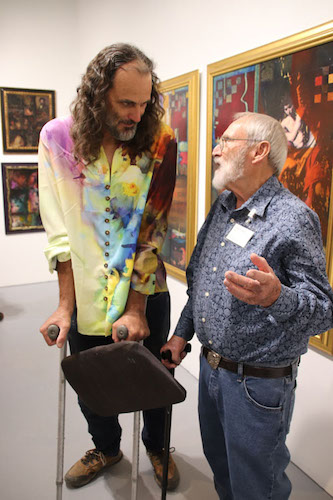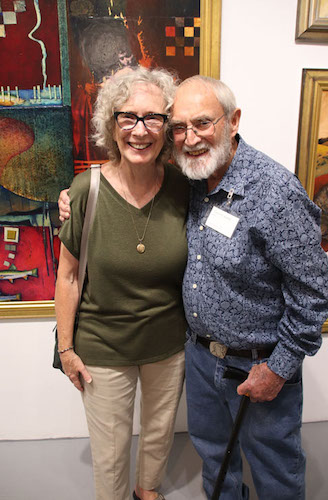 IMG_7963
WNMU Hosts Cecil Howard Retrospective of his 68-year art career to date 090723
IMG_7956
One of Howard's first works - a window
IMG_7958copy
Cecil Howard self-portrait 1961
IMG_7959copy
Howard self-portrait 1991
IMG_7960
Howard's first sculpture done in high school
IMG_7964
Some of the visitors to the show
IMG_7967
Welded Steel - "Black Sulphur" - 1968
IMG_7969
Dreaming in the Uffizzi 2001
IMG_7970
Sun Grown and Sweet White Onions 2018
IMG_7974
Visitors in another portion of the gallery
IMG_7975
Italy influenced 1991 Staza della Segnatura, third part of a tryptych, which won the Governor's Award and is on exhibit at the Governor's Gallery in Santa Fe
IMG_7976
Visitors in the McCray Gallery looking at Howard's paintings and sculptures
IMG_7979
Robin and Alex Oheltree talk with Marilyn Howard, Cecil's wife
IMG_7981
Mike Lane and Cecil Howard chat
IMG_7985
Cecil's family, from left, his daughter-in-law Alice and son Japeth, Marilyn, Cecil and their daughter Ana
IMG_7998
Juniper and copper "Eagle" from the Sudie Kennedy collection
IMG_7999
Cecil, retired art professor and former Expressive Arts Department chair, with current department chair Michael Metcalf
IMG_8006
Silver City artist Jean-Robert Beffort talks to Cecil
IMG_8016
Faye McCalmont, who got the retrospective in process before she retired, and Cecil
Because of the vast variety of media used in his art work, the Beat asked Howard if there were any medium he had never used.
"I never did any print-making professionally, only in college," Howard replied. "I also did not teach jewelry, photography or print-making. I taught almost everything else, including art appreciation."
His wife, Marilyn, said she tried to get him interested in print-making, but he didn't want to do it. "So, I did it instead. I liked doing it."